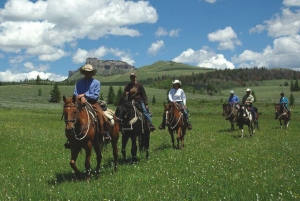 Our dude ranch doesn't just offer the best
horseback riding in Wyoming
! There are many other activities in Wyoming that we are proud to offer at our ranch, as well other activities in the towns around the ranch like Dubois and Jackson Hole.
Explore some of these activities below, and be sure to view the full weekly schedule to learn more about a typical week at our Wyoming dude ranch.
But remember this is your vacation, if you want to sleep in, we won't be knocking at your door!
Activities at the Lazy L&B Wyoming dude ranch:
Hiking
Home to Rainbow, Cutthroat, Brown Trout and more, the clear waters around us offer the best Wyoming fishing. The West (Wiggins) Fork of the Wind River has a breathtaking canyon view and is truly one of Wyoming's best-kept secrets. The Upper Wind River offers the promise of some truly large trout and can be fished effectively with both fly and spin gear.
Read More about Fishing at our Ranch
Bird Watching
Swimming in the river
Pool
Shooting gallery
Petting zoo
Campfires
Other activities around Dubois & Jackson Hole, WY: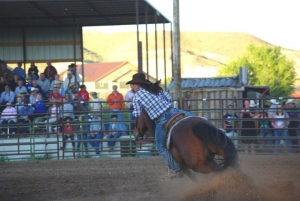 Square Dancing
Rodeo
Big Horn Sheep Center & Museum