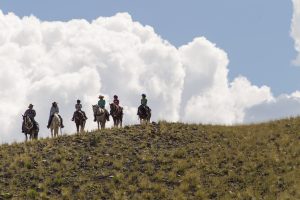 Our dude ranch doesn't just offer the best horseback riding in Wyoming! There are many other activities in Wyoming that we are proud to offer at our ranch, as well as other activities in the towns around the ranch like Dubois and Jackson Hole.
Explore some of these activities below, and be sure to view the full weekly schedule to learn more about a typical week at our Wyoming dude ranch.
But remember this is your vacation, if you want to sleep in, we won't be knocking at your door!
Activities at the Lazy L&B Wyoming dude ranch:
Hiking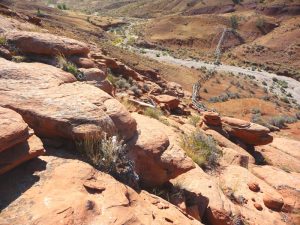 Whether you opt for the back of a horse or your own two feet there is spectacular country to explore around the ranch. Follow a horse trail out of the ranch or blaze your own trail. There's also the option of driving to various trailheads that are not too far from the ranch. A popular hike with many of our guests is the short climb out of the valley to view the beautiful sunset. A sunrise hike is equally breathtaking but requires an early start.
If you're more about hiking than riding then you may want to consider some guided hikes led by the Dubois Historical Museum. For a modest donation they will lead you on half or full day hikes.
Fishing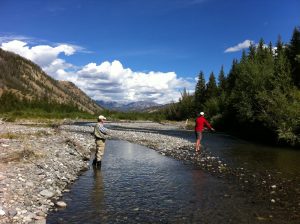 Home to Rainbow, Cutthroat, Brown Trout and more, the clear waters around us offer the best Wyoming fishing. The West (Wiggins) Fork of the Wind River has a breathtaking canyon view and is truly one of Wyoming's best-kept secrets. The Upper Wind River offers the promise of some truly large trout and can be fished effectively with both fly and spin gear.
Read More about Fishing at our Ranch
Birdwatching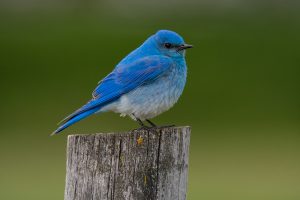 The ranch and surrounding area is home to what seems like an endless variety and number of birds. The stunning Mountain Bluebird is often spied as are Western Wood Peewees and Willow Flycatchers. Brilliant Violet Green Swallows and Red-naped Sapsuckers are also seen flitting among the cabins. Keep your eyes open to also view the Bullocks Oriole, Northern Flicker, House Wren, Western Meadowlark and Yellow Warbler.
Read More about Birdwatching at our Ranch
Swimming in the river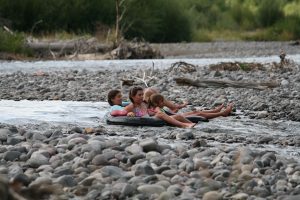 Pool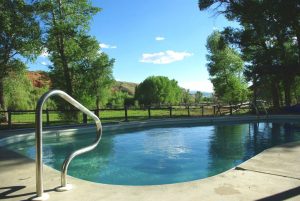 Shooting gallery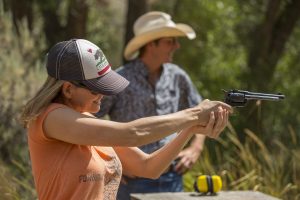 Petting zoo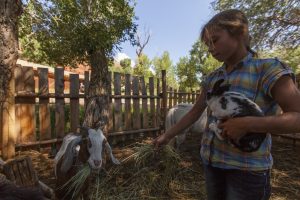 Kids of all ages have fun in the petting zoo that's adjacent to the corrals. The critters may change from season to season but there are always hens laying fresh eggs, friendly barn cats and a variety of furry creatures that love to be loved.
Campfires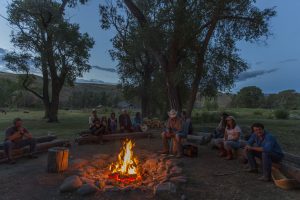 Where there's a fire going, people tend to congregate. Is it because fire used to signify safety, warmth and sustenance to our ancestors? Or is it simply because it's a tool that allows us to comfortably spend time outside when the temperature dips? Whatever the reason it's clear that there's not much not to like about a campfire. It's backcountry television!
It's easy to gather around and sit for hours mesmerized by the dancing flames. Add in anything else: good company, s' mores, drinks, music, or all of the above and you're so content it's hard to tear yourself away.
We love campfires so much we try to spend as much time around one as possible so we even cook breakfast over it from time to time. There's something about the smell of fresh morning air, bacon and woodsmoke mingling together that makes you glad to be alive.
Other activities around Dubois & Jackson Hole, WY: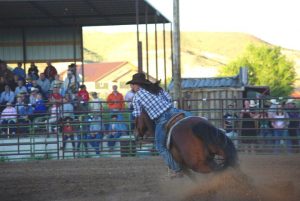 Square Dancing
Rodeo
Big Horn Sheep Center & Museum