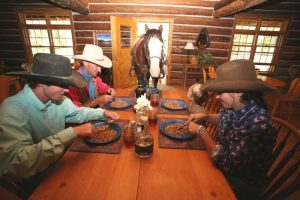 All meals are included during your stay. We make every effort to accommodate dietary restrictions – just let us know what works for you.
Each day begins in the dining room with a buffet of fresh fruit, home-baked goods, yogurt, cereal and made to order eggs with a side.
Lunches vary and include a buffet or BBQ outside in the courtyard, pack your own lunch or wrangler's lunch on the trail.
Several nights per week there is a cocktail hour on the back porch of the lodge. Dinners are served under the sky and in the dining room.