Every Meal is Fresh, Delicious, and Made from Scratch
One thing is certain, you won't go hungry while you're at the ranch, unless that's what you want! All your meals are included during your stay and there's a common theme to each meal – everything we serve is fresh, delicious and of the highest quality.
Cowboy Breakfast Morning: Fuel for Your Ranch Fun
Most mornings start in the dining room with a buffet of fresh fruit, home-baked goods, a selection of cereal and homemade granola and yogurt. We also offer a daily special with eggs to order. You won't want to miss Cowboy Breakfast when our chef cooks breakfast over the campfire.
Lunches on the Trail or off the Back Porch of the Ranch
Sometimes we eat lunch at the ranch and sometimes we pack a lunch in the morning to enjoy on the trail. Buffet lunches off the back porch range from barbecued hamburgers to a Mexican spread to salads, soups, and chilis.
Campfire Steak Cookouts to 3-Course Sit Down Adult Dinners
There are a couple of upscale dinners for the adults when the kids are eating with the wranglers or at a campfire cookout. The rest of the time we eat together and depending on what's fresh and available locally, entrees range from bison tenderloin to grilled pork chops to cheesy baked pasta with salads and healthy sides. We cap off the week with a steak cook-out around the fire. We also have a couple of happy hours during the week with complimentary beer and house-made sangria.
Please let us know ahead of time if you have any allergies or dietary restrictions and we'll be happy to accommodate you.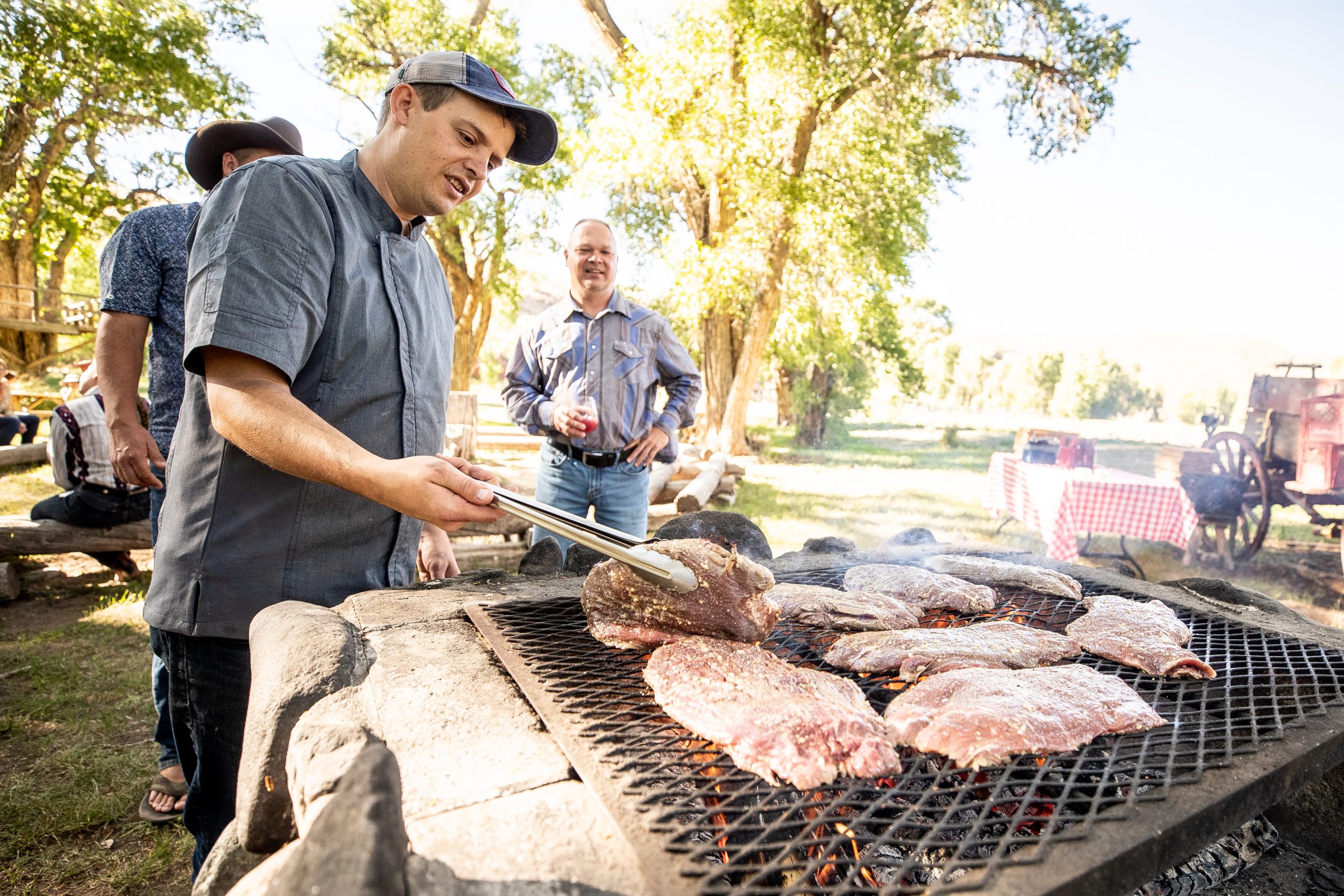 Head Chef – Jonathan Romans
Head Chef Jonathan Romans was born and raised in Livingston, Montana and has been working in restaurants for over 25 years. He realized his dream of working in a NYC kitchen by working his way up from line cook to Head Chef/part owner of two restaurants. Looking for a more relaxed Chef life he moved back home, working at Mountain Sky guest ranch as its Executive Chef until, in his words, "I landed one of my favorite jobs I have ever had at the Lazy L&B."
He's traveled to Spain, Italy, Israel, Colombia and Thailand to study food and spends winters in Mexico with his wife Yuli. You'll find him on a golf course any chance he gets.
The Lazy L&B Ranch is a permittee of the Shoshone National Forest