Complimentary Day of Guided Fly Fishing
Applicable weeks: June 2nd, 9th, 16th, 24th
If you mention this promotion when booking a June vacation at the Lazy L&B Ranch we'll treat you to a day of professionally guided fly-fishing. The East Fork, Wiggins Fork and Wind River all offer excellent trout action. Or maybe you prefer a float trip? The choice is yours! This special offer applies to 6 night double-occupancy reservations for the weeks of June 2nd, 9th, 16th, and 24th when you book directly with us before May 19th.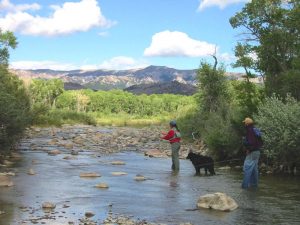 Please contact us [email protected] or better yet, call us at 1-800-453-9488
2013 Season Kick Off – $400 Off Regular Prices!
Applicable weeks: June 2nd – 8th, June 9th – 15th
Come visit us for the start of our season at a great price – $1,275.00 per person for an all-inclusive 6-night stay if you book directly through us before April 15th.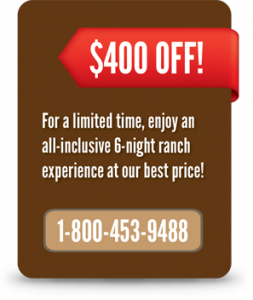 June is an amazing time to be in our country. Spring is in the air, wild flowers are in bloom, and mountains are snowcapped in the high country. You have a chance to see elk, moose, wild horses, and maybe even bighorn sheep with their young. We are located 1.5 hours from the Teton and Yellowstone Park entrances which makes for a wonderful combination trip of parks and a unique ranch experience.
Please contact us [email protected] or better yet, call us at 1-800-453-9488