THE LAZY L&B EXPERIENCE
Located near the town of Dubois, Wyoming, this historic guest ranch, situated at an elevation of 7,200 feet, is surrounded by unparalleled landscapes and vistas. Its proximity to Jackson Hole and Yellowstone Park make it the obvious choice for your dude ranch vacation.
Book Now
About Our Ranch
Welcome to the Lazy L&B Ranch!
Historic Wyoming Dude Ranch
Our historic Wyoming dude ranch is the perfect place to breathe and get back to nature. Come and explore the spectacular beauty of the Wind River's East Fork valley in the Greater Yellowstone area, which is virtually unchanged since the time it was homesteaded in the early 1900s.  Our award-winning dude ranch is less than two hours from Grand Teton National Park and Jackson, Wyoming.
Horseback Trail Rides, Hikes, and More
It's your amazing ranch vacation! Sample our delightful weekly schedule of activities like horseback riding and fly-fishing or simply relax on the porch of your log cabin. Take a leisurely walk to explore the ranch or head out on a hike to admire the stunning vistas. Chill out by the swimming pool while the kids play. Your vacation is whatever you want it to be!
Dark Skies, Brilliant Stars, Campfires
You'll question if you've ever seen a sky this blue and marvel at the incredibly dark night skies with brilliant star shows and Milky Way encores. You'll be hard-pressed to remember the last time you were somewhere this quiet and peaceful. Guests of every age love to gather around the campfire and you'll love it, too!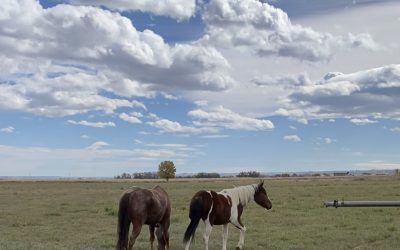 October is winding down which means it's time for the horses to head to their winter pasture. After our season ends, the lease horses go back home and the Lazy L&B horses roam the ranch eating it down. That takes them about a month and a half at which point we...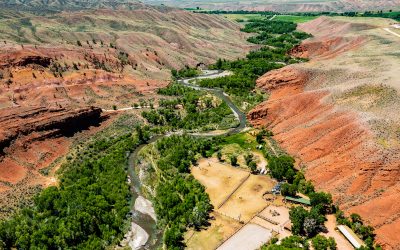 Generally our winters aren't all that snowy but of course the leaves fall from the trees and the grass turns brown and we daydream about summertime. We can't wait for all the various greens to reappear!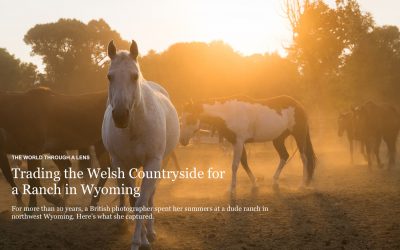 We're thrilled that the New York Times published a piece by photojournalist (and longtime L&B wrangler) Claire Thomas that mentioned the ranch, the town of Dubois and our neighbors, the Finleys.
The Lazy L&B Ranch is a permittee of the Shoshone National Forest